Northern Region
REGIONAL CHAIRMAN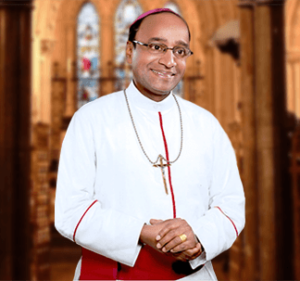 Most Rev. Ignatius Loyola Mascarenhas
Bishop of Simla-Chandigarh
Contact:
Bishop's House, Post Box No. 709, Sector 19A, Chandigarh – 160 019
Email: [email protected]
[email protected]
Mobile: 09501922007
Regional Secretary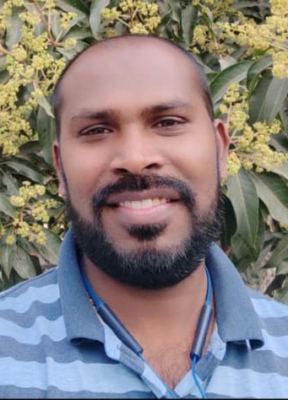 Fr. Balaraju Anthony Swamy
Contact:
Commission for BEC/SCC  Yusuf Sadan, 1 Ashok Place, Gole Dakh Khana, New Delhi 11001
Mobile: +918377994828
Email: [email protected]
SL No
Diocese
Name of Secretary
Address
Mobile/Email
Full Time/Part Time/Contact Person
1
Delhi
Fr Balaraju Anthony Swamy

Mr. Emmanuel

Commission for BEC/SCC  Yusuf Sadan, 1 Ashok Place, Gole Dakh Khana, New Delhi 11001
 8377994828

9871146121

Full Time

Full Time

2
Shimla – Chandigarh
Fr Wilfred Masih

Bishop's House, Sec -19 A, Chandigarh – 160019

[email protected]

Full Time
Mrs  Jagrani
St. Mother Teresa Church Dharampur, Kotta. P.O -Baddi,Dist-Solan,Himanchal- 173205

8894273378

Part Time
3
Jalandhar
Fr Thomas Valliaparamtril
Bishop's House, H No. 175, Civil Lines Post, Jalandhar City – 144001

[email protected]

9417565306

Part Time
4
Jammu & Shrinagar
Fr Stalin Raj
Bishop's House, Jammu Cantt – 180003, Jammu and Kashmir
9419101579.

[email protected]

, [email protected]

Part Time
Formation of Regional Council for Northern Region
The Formation of Regional Council for Northern(Delhi, Shimla, Chandigarh, Jalandhar and Jammu & Kashmir) Region was formed on 27th August 2011, at Pastoral Centre, Jammu & Kashmir. This Regional council will act as a resource & animation team for the Northern Region. It will conduct all the programmes for the region. This Regional Council was formed under the able leadership of His Excellency Bishop Ignatius, the Regional chairman for SCC, Fr. Peter Emmanuel, the Regional Secretary and diocesan directors along with their teams of each diocese. The team also decided to conduct at least two programmes annually for the region. During the meeting, the council members discussed the vision and mission statement of SCC for Northern Region.
Vision Statement
Communion of Communities centered on the Word of God in the multi- cultural context of North Region (Delhi, Shimla- Chandigarh, Jalandhar and Jammu & Kashmir).
Mission Statement
Establish sustainable Small Christian Communities in the Northern Region ( Delhi, Shimla- Chandigarh, Jalandhar and Jammu & Kashmir)
Objectives
Forming SCCs in the neighbourhood centered on the Word of God.
Empowering SCCs to be agents for evangelization in collaboration with other faiths and by forming Basic Neighbourhood communities.
Empowering emerging leaders among laity, religious and priests.
Promoting self-reliance SCC
Members of Regional Council Team:
Parton: Most. Rev. Anil J.T. Couto
Regional Chairman: Rt. Rev. Ignatius Loyola Mascarenhas, Bishop of Shimla- Chandigrah
Regional Secretary: Fr. Robin Sahaya
Diocese wise
Archdiocese of Delhi: Most. Rev. Anil J,T, Couto , Rt Rev. Franco Mulakkal, Fr. Peter Emmanuel, Mr. Emmanuel and Mrs. Ramona Gomes.
Shimla-Chandigarh: Rt. Rev. Ignatius Loyola Mascarenhas, Fr. Robina Sai , Mr. Gurgeet and Sr. Rita
Jalandhar Diocese: Rt. Rev. Anil J.T. Couto, Archbishop of Delhi and Apostolic Administrator of Jalandhar Diocese , Fr. Kachappilly Varghese, Fr. Joseph Illickal and Sr. Laveena Rojes HC.
Jammu & Srinagar : Peter Celestine, OFM Cap, Fr. Stalin Raj
STATISTICAL UPDATE
Sr.No
Name of the Diocese
No. Parishes
No. Parishes with SCCs
No. SCCs
Name of the diocesan Coordinator
Name of the Bishop
01
Delhi
54
43
390
Fr. Balaraju Anthony Swamy
Archbishop Anil Joseph Thomas Couto
02
Simla-Chandigarh
51
34
116
Fr. Robin Sahaya

Email: [email protected]

Bishop Ignatius Mascarenhas
03
Jalandhar
106
17
60
Fr. Kachappilly Varghese

Email: [email protected]

Bishop Franco Mulakkal
04
Jammu-Srinagar
37
15
30
Fr. Stalin Raj
Bishop Ivan Pereira
SCC activities done in Delhi Archdiocese
All efforts have been taken to promote SCCs in Delhi Archdiocese with the help of so many clergy, religious and lay people.
Some of  the fruits of hard labour of Rev. Fr. Peter Emmanuel and his team in the doicese.
a.    Visit to  the SCC groups in different parishes
b.    SCC awareness Programmes to different parishes in the diocese.
c.    Training for SCC animators
d.    Awarness cum leadership programmes for animators
e.    Servant Leadership and Guiding Leadership for youth
f.    Annual Day Celebrations at deanary levels
g.    Diocesan SCC Annual Day
Positive experiences:
People have come to experience God personally. They have developed  the taste and love for the Word of God. The Word of God is slowly and steadily uniting the people.  Sunday Church attendance has improved. People have developed the sense of belonging and team work.  Once a month in their locality they have Gospel sharing meeting.  Above all people are experiencing Jesus personally more and more and are committing themselves to build the Kingdom of God.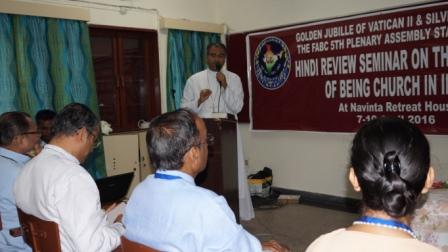 Review Seminar Delhi, Bishop Ignatius D'Souza during Session on 8th April 2016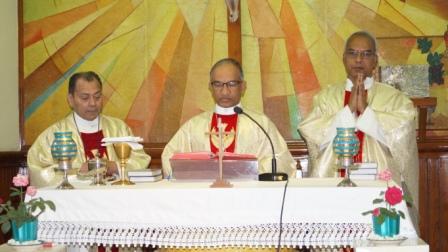 Eucharistic Celebration during Delhi Review Seminar 9.4.2016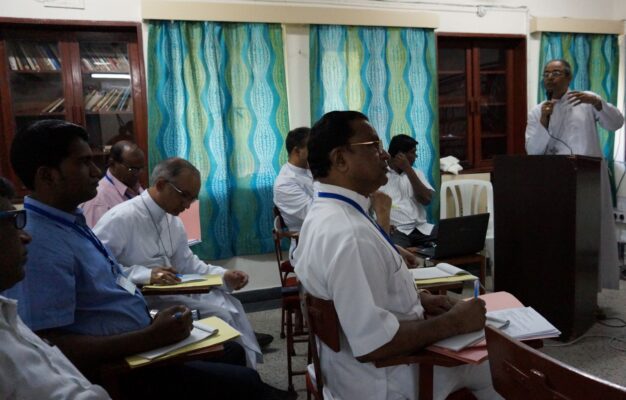 Bp. Gerald Mathias taking Session during Review Seminar in Delhi on  9.4.2016
SCC REGIONAL CONVENTION
SCC Regional convention was held in Northern Region on 11th and 12th November 2017.
Report / Activities of Northern Region from Emmanuel Johnson, NST member.
Annual Planner of the North Region:
18th -19th Jan 2020:      RRT Meet held at Chandigarh.
08th February 2020:     We had planned to organize the 1st RCSCCs at Yusuf Sadan, New Delhi but due to Delhi Assembly Election, non participation of Simla-Chandigarh Diocese (due to Priestly Ordination) and priest from Jammu Diocese met with an accident, we had to cancel our 1st RCSCCs meeting this year.
25th – 26th April:           RRT Meet at Jalandhar
25th – 26th July:            RRT Meet at Jammu
24th – 25th October:      RRT Meet at Delhi.
Report of the Archdiocese of Delhi:
We have formed our DST/DRT & DCSCCs in our Archdiocese. In our team we have 5 women, 4 men, 1 female youth representative and a priest. We are trying to get one religious.
From this year the Commission for SCCs, initiated to have its Annual Planner (Planner-2020 copy attached). The focus will be more on strengthening the SCC structure and the formation of PAT in every parishes of our Archdiocese. We also plan to build the Deanery Team.
This year during our 2nd DCSCCs we introduced the Lesson on Ministries in SCC. As decided in our last RRT Workshop held at PAC, Nagpur. We planned to focus on three ministries; Family / Faith Formation & Youth.
As our Archdiocese is celebrating the Diamond Jubilee, all 24 Commissions were asked to organize one program in a year. SCC Commission proposed to have one Sunday in a year to be declared as "SCC SUNDAY" in the parish level. The proposal was accepted by the Jubilee organizing team. 3rd Sunday of August 2020 has been declared as "SCC SUNDAY". We also planned to organize the Seminar for all the priests of our diocese and Archbishop Anil Couto agreed to have it during the Monthly Priest Recollection which will be held on Wednesday 15th April 2020 at Navinta Retreat Centre, Okhla. The Resource person will be Rev. Fr. Vijay Thomas, SAC.
This year we had four visitors from the Trier Diocese, Germany for SCC exposure program from 5th to 10th February 2020. They had an interaction with the Archbishop of Delhi, His Grace Most Rev. Anil J.T. Couto and with Bp. Ignatius Mascarenhas, Regional & National Chairman for the Commission for BECs (CCBI). The meeting with the members of DST & DRT, visited two SCC units of Sacred Heart Cathedral, Ashok Place & St. Luke's Church, Defence Colony, New Delhi. They also took part in our SCC Annual Day which was held on Sunday 9th February 2020 at the DCC Hall, Ashok Place, New Delhi. They visited Agra to see Taj Mahal and Qutub Minar, Lotus Temple, India Gate, Rashtrapati Bhawan & Parliament building in New Delhi. The visit of the Trier team was very enriching and a good learning process for all of us.