KARNATAKA REGIONAL COMMISSION FOR SMALL CHRISTIAN COMMUNITIES (SCCs)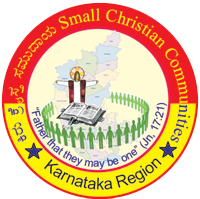 Regional Chairman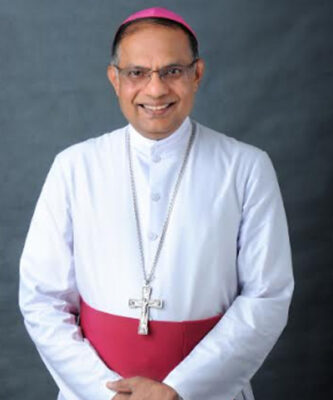 Most Rev. Peter Paul Saldanha (Bishop of Mangalore)
 Bishop's House, Kodialbail Post, Dakshina Kannada,
Mangalore – 575 003.  Karnataka
Mobile No: 9741553052
Email : [email protected]/ [email protected]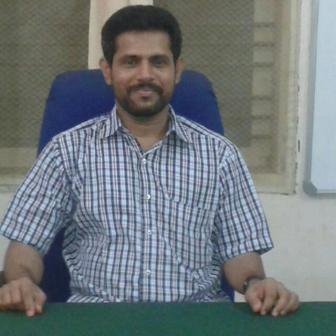 Fr. George Vincent Lobo
Regional Secretary
Regional Pastoral Centre / Kross, Post Box 8427 no. 58/6, 2nd Cross,  Da Costa Layout,
Wheeler road  Extension, Bengaluru – 560084
Mobile No: 09448895493
Email: [email protected]
SL No
Diocese
Name of Secretary
Address
Mobile/Email
Full Time/Part Time/Contact Person
1.
Bangalore
Fr  Susairaj  P,

Our Lady of Victories Church, Champion Reefs, KGF – 563117
Tel:9880745085 // 08153-274507
Part Time
2.
Belgaum
Fr. Arun Fernandes,

Immaculate Conception Church, B C 149 Camp, Belagavi 590001
Tel: 9535305321
Part Time
3
Bellary
Fr. Jose Prakash,

Bellary Arogya Matha Shrine, Maria Nagar, Cantonment Bellary – 583 104
Tel 6362780587
Part Time
4
Belthangady
Fr.  Thomas

Puthiyara, (shibi)

Family Apostolate, Jnananilaya Pastoral Centre, Udayanagar, Belthangady – 574214
Tel: 9480528966

[email protected]

Part Time
5
Bhadravathi
Fr.  Tomy  NJ,

Bishop's House, St Joseph's Church, Sagar Road, Shivamogga, 577204
Tel: 876201527

Email: [email protected]

Part Time
6
Chikkamagalur
Fr.  John Paul

Bishop's House, Jyothi Nilaya, Jyothi Nagar, , Chikkamagalur
Tel:       9481769830

[email protected]

Part Time
7
Gulbarga
Fr. Vincent Thoras

Bishop's House, Kripalaya, Kothanoor Village, Nandikur Post, Kalaburgi – 585102
Tel : 9483441272
Part Time
8
Karwar
Fr. Reagan

Fernandes

Diocesan Pastoral Centre,Puneeth Sadan, Shirwad, Karwar – 581306
Tel :     8277786549
Part Time
9
Mangalore
Fr. Joachim

Fernandes

Shanthi Kiran, Pastoral Institute, Bajjodi, Mangalore 575005
Tel:9448623265
Part Time
10
Mysore
Fr.  Edwin

Saldanha

Bihop's House, Mother Theresa Road (B N Rd), Lashkar Mohalla, Mysuru 570001
Tel: 9448976846
Part Time
11
Puttur
Fr.  Thomas Kuzhinapuram

Shanthi Bhavan, Catholic Bishop's House, Parladka, Putturu P O – 574201
Tel: 9148950173 // 9108922773

Part Time
12
Shimoga
Fr. Venus Praveen Colaco,

Chaitanya, Alkola Circle, Sagar Road, Gopala Post – Shimoga – 577205
Tel: 9449552673

Email:  [email protected]

Part Time
13
Udupi
Fr.  Harold Pereira,

Bishop's House, Church Road, Udupi – 576101
Tel:       9740943528

Email:   [email protected]

Part Time
The History of SCCs in Karnataka Region:
The SCCs coordination work in Karnataka region was started in the year 2005. Bishop of Mangalore Diocese Most Rev Dr. Aloysius Paul Dsouza is the chairperson .KRCBC (Karnataka Roman Catholic Bishops Conference) appointed Rev. Fr. Gilbert Dsouza,  a priest from Mangalore Diocese  as the first part-time secretary  and then in 2011, Fr. Harold Pereira has a full time Secretary for SCC Commission.  Karnataka region consists of 14 dioceses: Archdiocese of Bangalore, Badravathi (Syro-Malabar) Diocese, Belgaum Diocese, Bellary Diocese, Belthangady (Syro-Malabar) Diocese, Chikmagalur Diocese, Gulbarga Diocese, Karwar Diocese, Mangalore Diocese, Mandya (Syro-Malabar) Diocese, Mysore Diocese, Puttur (Syro-Malankara) Diocese, Shimoga Diocese, and Udupi Diocese.
There is a newly inaugurated (13thNov 2012) Regional Office of Commission for SCCs in KRPC (Karnataka Regional Pastoral Centre) at Bangalore.
There is a five members Regional Resource Team (KRRT), came into existence on 18th Sept.2012.
There is a Regional Council for SCCs consisting of 16 members, came into existence on 10th November 2011.
At the regional level, besides Council meetings, Directors meet and TOT (Trainers Training) training programs are held annually.
Ample of SCC material has been translated in Local Language (Kannada).
In the year of faith , the lessons prepared and sent by the NRT for SCCs have been given to the Directors of each diocese and copies of  PORTA FEDEI have been distributed to the lay faithful.
Pastoral course on SCCs is been conducted in the Seminary and other religious formation houses.
There is a Regional SCC News letter called COMMUNION which is printed frequently and circulated to all the dioceses of the region. So far three issues of Communion Newsletter have been brought out.
Vision Statement:
A communion of Communities where neighbors live life in fullness centered on the Word of God & the Eucharist.
Mission Statement
Establish, empower and sustain SCC in every neighborhood by
Encouraging living the Word of God and Eucharist.
Promoting relatedness leading to a community that is sharing and caring.
Building shared, non domineering leadership at all levels.
Goal
By 31st of December 31, 2014, all the parishes of the region have at least 2 SCCs which are regularly functioning.
Objectives
Every Ddiocese in Karnataka to have a team of collaborators with the Directors promoting the cause of SCC by 31st December, 2014.
A minimum of three days Pastoral Course on promotion of SCCs to be incorporated into the curriculum of the Seminaries and the Formation Houses of Religious giving scope for a practical experience during their formation by 2014.
By the end of 2014 every priest, religious and 50% of the lay faithful in Karnataka to be given the clear knowledge of SCCs based on a standard module prepared by the Commission.
Every SCCs unit in Karnataka to have at least one eligible and committed animators who build the SCCs by the end of 2014.
All the parishes in Karnataka to have at least two SCC units, and are functioning effectively by 31st December 2014.
The list of the Regional SCC Council
01. Most Rt. Rev. Dr. Aloysius Paul Dsouza [Chairperson, Mangalore Diocese]
02. Fr. Lourdusamy                [ KRPPIC Coordinator ]
03. Fr. Harold Pereira             [ Regional Secretary   ]
04. Sr. Emilia Monteiro SMI    [ Regional Joint Secretary]
05. Fr. Stanley Dsouza          [ Belgaum Diocese ]
06. Fr. Shantraj                      [ Chickmagalur Diocese ]
07. Fr. Austin Fernandes          [ Gulbarga Diocese ]
08. Fr. Susairaj                        [ Bangalore Archdiocese ]
09. Sr. Mabel Dsouza,           [ Mangalore Diocese ]
10. Mr. Arockiadas                 [ Bangalore Archdiocese ]
11. Mr. Paul Fernandes           [ Shimoga Diocese]
12. Ms Anitha                         [ Chikmagalur Diocese]
13. Fr. Duming Dias                [ Shimoga Diocese, nominated]
14. Fr.  Walter Dsouza          [ Mangalore Diocese, nominated]
15. Mr. V. M. Francis             [Bangalore Archdiocese, nominated]
16. Mr. Marcellus Fernandez   [Bangalore Archdiocese, nominated]
Names, Addresses, email ids and phone numbers of the Diocesan SCC Commission Secretaries of Karnataka Region- 2013
Diocese
Secretary
Address
Phone no & Email id
Bangalore
Fr Susairaj
St. Thomas Church
HAL, Jeevan Bhima Nagar,
Bangalore 560 075
08105414247
[email protected]
Belgaum
Fr. Stanely DSouza
Sevalaya,
Dr. Da Ra Bendre Road,
Dharwad -580 008
9902520732
[email protected]
Belthangady
Fr. Jocob Peddikayail
St. Joseph Church
Addahala,
Gundiya Post
Shiradi – 574 229
9141759044
[email protected]
Bellary
Fr.Anil Kumar
Christ the King Church,
Gajendragada Road
Kushtagi
Koppal District
Pin- 583 277

[email protected]


09448831869
Chikmagalur
Fr. Shantraj
Assumption Church
M. Dasapura
Akkanahalli  Koodu post
Via Nuggehalli, Hassan Dist. 573 131
944868855
[email protected]
Gulbarga
Fr.Clary DSouza
Milagris, St.Anthonys Ashram Latur Road,
Hulsoor Post-585 416
Basavakalyan Tq, Bidar Dist.
9972540237
[email protected]

Karwar
Fr.Edwin DSouza
Our Lady of Piety
Church
Halga Post
Karwar Dist 581 328

[email protected]


09972218006
Mangalore
Fr. Walter DSouza
Shanti Kiran
Bajjodi
Mangalore -575 005
9844213751
9448931970
[email protected]
Mysore
Fr. Prashant Kumar
St. Johns College
M C Road
Church compound
Mandya -571 401
8867307860
[email protected]
Shimoga
Fr Duming Dias
St Thomas Church
P J Extension
Davanagere 577 002
9611204527
[email protected]
18 Commissions Coordinator
Fr. Lourdusamy T
Regional Pastoral Centre
58/6, P B 8427,
2nd Cross, Da Cost Layout, Wheeler road Ext. Bangalore -84
9449260536
Statistics of SCCs in Karnataka
Sr.No

Name of Diocese

Year of Estb.

No of parishes

No of parishes with SCCs

No of SCCs

No of Parishes with

PPC elected from SCC

Resource
Team     
1
Bangalore
1999
135
22
62
— 2 —
—
2.
Belthangady
2007
51
48
250
—
—
3.
Bellary
1997
43
11
53
—
—
4.
Belgaum
1998
44
15
77
—
—
5.
Chikmagalur
1993
40
20
166
—
—
6.
Gulbarga
2008
26
12
41
—
—
7.
Mangalore
1987
113
107
1116
107
—
8.
Udupi
1987
47
44
434
44
—
9.
Mysore
1998
74
26
52
—
—
10
Karwar
2010
77
—-
—-
—
—
11
Shimoga
1999
38
38
241
—-
—
12
Bhadravathi
—
13
13
—
—
—
13
Mandya
—
6
—
—-
—
—
14
Puttur
—
21
—
—
—
—
Total
728
356
2492
153
Regional SCCs Program plan for the year 2014
| | | |
| --- | --- | --- |
| Month | Program | Place |
| January | | |
| 23-24th Jan 2014 | SCC Course for Deacons of Archdiocese | Bangalore |
| 25.01.2014 | One day Training for the Animators | Bangalore |
| February | | |
| 02.02.2014 | One day SCC training at Parapaddy parish | Udupi Diocese |
| 19.02.2014 | DAT  training | Shimoga |
| March | | |
| 02.03.2014 | SCC one day training | Bunkal Parish, Chikmagalur |
| 09.03.2014 | SCC Day at Bhalki Centre | Gulbarga |
| 14  to 18th 2014 | National Council meeting | Mysore |
| April | | |
| 27.04.2014 | Animators training program | Karwar |
| May | | |
| 15.05.2014 | SCCs training : Priests/ Religious/Laity | Bangalore |
| June | | |
| 11.06.2014 | Regional Resource Team Meeting | KRPC , Bangalore |
| 12.06.2014 | SCCs Directors Meet | KRPC , Bangalore |
| July | | |
| 22.07.2014 | SCC Training for the seminarians and the novices. | Bangalore/Mangalore |
| August | | |
| 29.08.2014 | A seminar on the role of an animator | Bangalore |
| September | | |
| 17.09.2014 | Trainers training program | KRPC, Bangalore |
| 25.09.2014 | Regional Resource Team Meeting | KRPC, Bangalore |
| October | | |
| 02.10.2014 | Regional Secretarys visit | Gulbarga |
| 23.10.2014 | Regional Secretarys visit | Belgaum |
| November | | |
| 14.11.2014 | Regional Council meeting | KRPC, Bangalore |
| December | | |
| 10.12.2014 | Regional Resource Team meeting | Bangalore |
| | | |
RESULTS AND IMPACT OF SCCs
Because of the SCCs the tangible growth is seen in the lives of the faithful:
The growth is seen in three levels: In the parish, in the diocese and in the region besides the personal growth in faith.
In the parish:
The members of the  SCCs unit are growing in  understanding that the SCCs is an extended family.

An emerging and rotating leadership is seen.

People meet regularly and the SCC unit has become a forum for local issues to discus and sort out issues. There is a growing unity  among the faithful.

People read and reflect the Word of God through the Seven Steps Gospel sharing  method and share the Word and take up service  activities, even they  reach out to the people of other faith.

Since the Sunday liturgy is planned in SCCs units and it becomes more participatory and meaningful.

Having seen the all-round growth of people of a SCCs parish, the neighboring parishes have initiated SCCs in their parish too.
Number of trained animators and team members are giving constant inspiration and motivation and keep spreading the SCCs in other parishes.
At the diocese level
Various parish animators come together and share their experiences and  learn and   plan together.
So far five Diocesan SCCs conventions have taken place and that have given the people a feeling of belongingness and motivation.
The several Residential Training  Program on SCCs have been very effective in convincing people about the nature, goals and  mechanisms of SCCs.
At the Region level:
Various diocesan animators come together and share their experiences and  success stories and keep net working, as a result  team spirit is built up among the animators.
The regional Bishops have accepted SCCs as a pastoral priority in their respective dioceses.
It gives much satisfaction to see Priests, Religious and Laity working as co- workers to build Kingdom of God through SCCs.
Modules are made available in regional languages.
Many dioceses have come forward to start SCCs in their dioceses. Several dioceses have appointed a part timer directors and even formed  a  Diocesan Team to promote the SCCs.
The Karnataka region is very well networking with the National  SCCS director and National Service Team (NST).
It is very much satisfying to see that people from other regions come to the dioceses of Karnataka for an exposure in the SCCs.
The History of SCCs in Mangalore Diocese
SCC was initiated around the year 1986 when the Pastoral Institute of Bajjodi was set up. Fr. Alphonse D Lima guided a  couple of priests who took initiative in introducing SCC to the ongoing formation of the Junior clergy.
In the 1987 Diocesan Consultation, the entire diocese accepted SCC as the priority project for the mission of the laity. A detailed blue print was prepared, and priests were oriented about the nature, goals, and mechanisms of SCC. The diocese conducted a ten-day Lumko training program, using the necessary literature, charts, and lessons on Lumko methods produced by the Bombay Diocesan team.
In 1990, Fr. Arthur Pereira, the appointed director of the Pastoral Institute, set  the  SCC work in motion. He trained parish animators, translated many AsIPA books and Lumko lessons into the local language, Konkani and produced seven books, as well as four audio cassettes with the SCC songs.At a one-day training program at he parish level, attended by about 100 participants, the parish priest was recognized as one of the resources to ensure the continuity of SCC work. The systematic and sustained effort made by the different parishes created a tradition for SCC ministry.
In 2004, Fr. Gilbert DSouza took over as SCC director. In no time. The Karnataka Regional Pastoral Plan set up 16 commissions, SCC being one of them.
One strong component in the Mangalore SCCs is the three-day residential training camp, mostly taking place at the Pastoral Institute. Each training camp has an average of 50 participants, who would get an experience of community living along with theoretical knowledge.
Each SCC in Mangalore Diocese has a lay leader called gurkar, who, with the bishops approval, works for five years. One member of the Parish Central Committee is officially designed to represent the parish priest at SCC meetings.
At present, SCC meetings are held monthly, mostly on Sundays, with around 30 persons attending. The 7-step Gospel sharing method is regularly followed, with concrete service action of attending to the needs of the community members. Various ways are used to foster community building:  group games, cultural programs, exposure to other SCCs, and the annual SCC day celebration.
A full-time director ran the SCCs in the Mangalore Diocese from 1990 to 2010. Now there is a part time director, Fr. Walter D Souza who runs the SCCs in the diocese. Around 30 coordinators assist the director to implement their SCC plans. The Diocesan Animation Team (DAT) of 10 persons and   the Varado Animation Team (VAT) of 10 persons and the Parish Animation Team (PAT) of 8-10 persons are formed to handle the ongoing formation of leaders both at the parish and the SCC levels.
News Letter